So, I finally started to paint the engine.  I stripped off some of the wiring that was getting in the way and applied a coat of a mix of flat black and white.
I could not get the Testors Acryl Aluminium to spray evenly through the airbrush so I brewed a mixture of (very old) Humbrol enamels Nos 11 and 56.
I also picked out a couple of details using a mix of Citadel Color Brass and Vallejo Old Gold.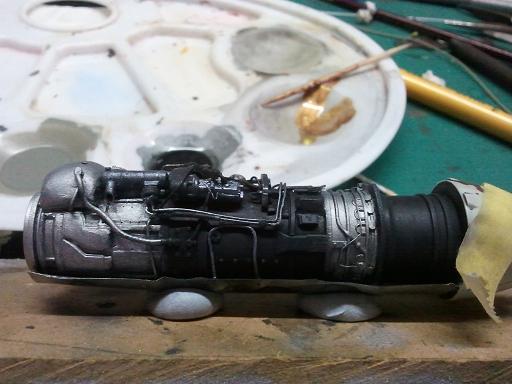 At this point I need some help.  I have turned my attention to the area below but cannot figure out what colour to use for the pipig.  I've tried mixing some RLM 02 with aluminium but it doesn't look right.
Images of the restored engine show the piping in semi-gloss black but I'm not sure that's authentic.
Any ideas?