Dassault Mirage III
Supersonic, reliable and high performing,
Mirage III
has given a great service at several different air forces like French, Spanish, Brazilian, Israelite, Pakistani, South African, Swiss, Venezuelan, ... Such machine
can't be missing from any proper modeler shelf
or the catalogues of the best scale model manufacturers.
Series Españolas
brings it with the
Spanish Air Forces decorations
, now available at Aeronautiko...
exactly what you needed for your models!!!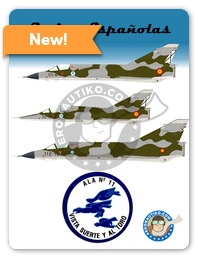 Series Españolas
: Decals 1/48 scale - Dassault Mirage III EE/DE - Fuerza Aérea Española (ES0) + Fuerza Aérea Española (ES0); Fuerza Aérea Española (ES0) 1971 - 1992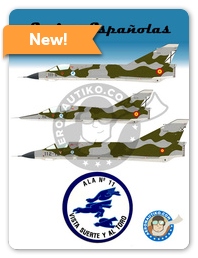 Series Españolas
: Decals 1/72 scale - Dassault Mirage III EE/DE - Fuerza Aérea Española (ES0) + Fuerza Aérea Española (ES0); Fuerza Aérea Española (ES0) 1971 - 1992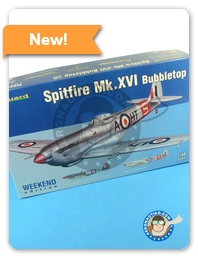 Eduard
: Airplane kit 1/48 scale - Supermarine Spitfire Mk. XVI - RAF (GB0) - World War II - plastic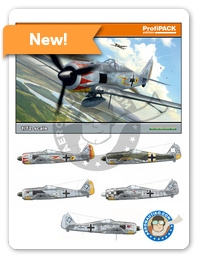 Eduard
: Airplane kit 1/72 scale - Focke-Wulf Fw 190 Würger A-5 - Luftwaffe (DE2) - World War II - plastic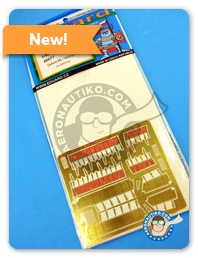 Eduard
: Photoetch 1/48 scale - Boulton Paul Defiant Mk I - for Airfix kit A05128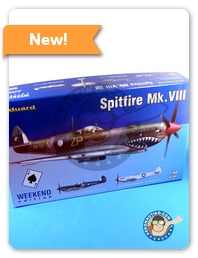 Eduard
: Airplane kit 1/48 scale - Supermarine Spitfire Mk. VIII - RAF (GB5); USAF (US7) - World War II - plastic kit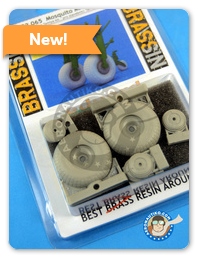 Eduard
: Wheels 1/32 scale - De Havilland Mosquito FB Mk. VI - World War II - for Revell kit REV04758, or Tamiya kit TAM60326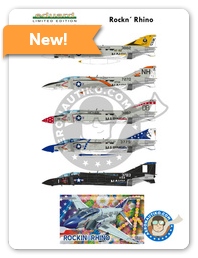 Eduard
: Airplane kit 1/48 scale - McDonnell Douglas F-4 Phantom II J - USAF (US0); USAF (US2) - different locations
Eduard
: Photoetch 1/48 scale - Dornier Do 215 B-5 Nightfighter - World War II - for ICM kit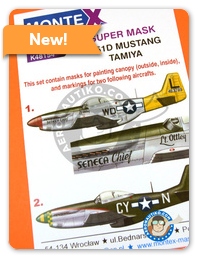 Montex Mask
: Masks 1/48 scale - North American P-51 Mustang D - USAF (US7) - World War II 1944 - for Tamiya kit TAM25147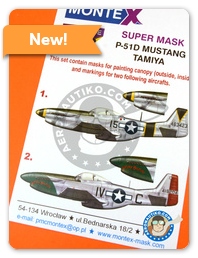 Montex Mask
: Masks 1/48 scale - North American P-51 Mustang D - USAF (US7) - World War II 1945 - for Tamiya kit TAM25147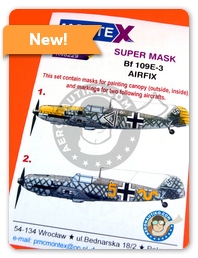 Montex Mask
: Masks 1/48 scale - Messerschmitt Bf 109 E-3 - Luftwaffe (DE2) - World War II - for Eduard kit ED84165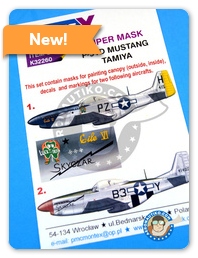 Montex Mask
: Masks 1/32 scale - North American P-51 Mustang D - USAF (US7) - World War II 1944, 1945 - for Tamiya kit TAM60322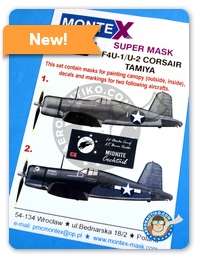 Montex Mask
: Masks 1/32 scale - Vought F4U Corsair F4U-1 Birdcage - USAF (US5); USAF (US7) - World War II 1943, 1944 - for Tamiya kit TAM60325
Montex Mask
: Decals 1/32 scale - Grumman F4F Wildcat 4 - USAF (US4); USAF (US5) - World War II 1942 - masks, decals - for Trumpeter kit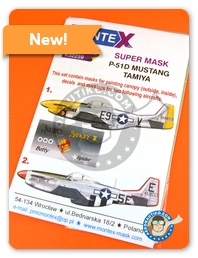 Montex Mask
: Masks 1/32 scale - North American P-51 Mustang D - USAF (US7) - World War II 1945 - masks, decals - for Tamiya kit TAM60322
Montex Mask
: Masks 1/32 scale - Junkers Ju-88 A-4 - Luftwaffe (DE2) - World War II 1942, 1944 - for Revell kit REV03988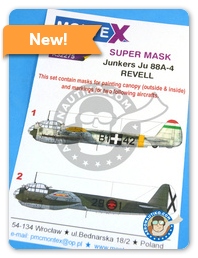 Montex Mask
: Masks 1/32 scale - Junkers Ju-88 A-4 - Hungarian Air Force (HU6); Fuerza Aérea Española (ES2) - World War II 1943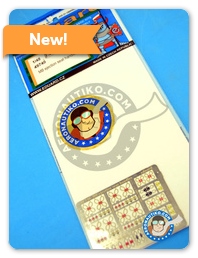 Eduard
: Coloured cockpit photoetches 1/48 scale - Ejection seat handles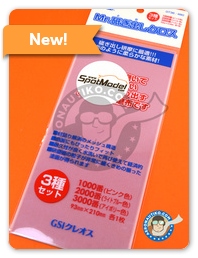 Mr Hobby
: Polish - Waterproof cloth file #1000, #2000, #3000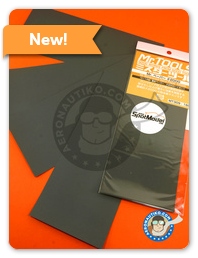 Mr Hobby
: Sandpaper - Mr Waterproof sand paper #2000 - 4 units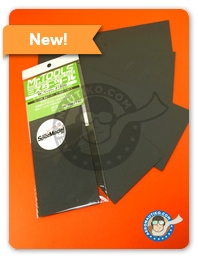 Mr Hobby
: Sandpaper - Mr Waterproof sand paper #1500 - 4 units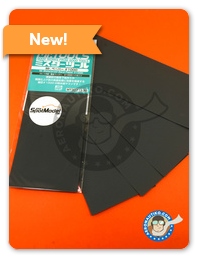 Mr Hobby
: Sandpaper - Mr Waterproof sand paper #1000 - 4 units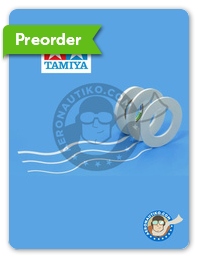 Tamiya
: Masks - Masking tape for curves 2mm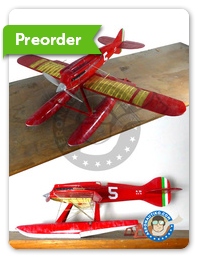 Profil24
: Airplane kit 1/24 scale - Macchi M39 - Schneider Trophy 1926 - resin kit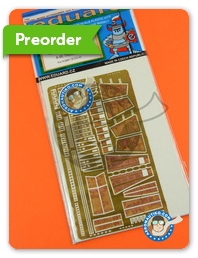 Eduard
: Photoetch 1/48 scale - Grumman A-6 Intruder E TRAM - for Hobby Boss kit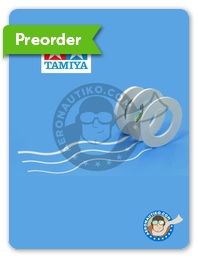 Tamiya
: Masks - Masking tape for curves 5mm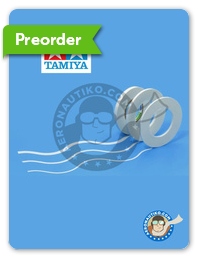 Tamiya
: Masks - Masking tape for curves 3mm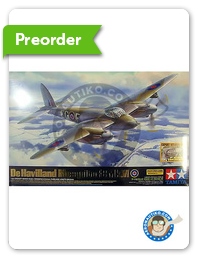 Tamiya
: Airplane kit 1/32 scale - De Havilland Mosquito FB Mk. VI - World War II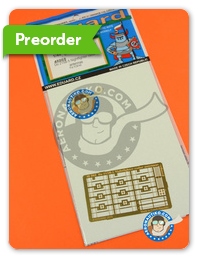 Eduard
: Photoetch 1/48 scale - Dornier Do 215 - World War II - for ICM kit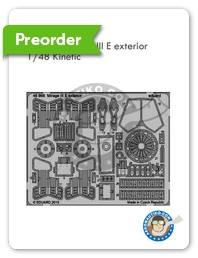 Eduard
: Photoetch 1/48 scale - Dassault Mirage III E - for Kinetic kit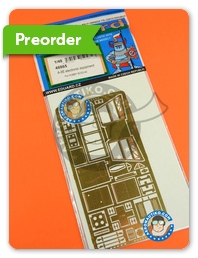 Eduard
: Photoetch 1/48 scale - Grumman A-6 Intruder E TRAM - for Hobby Boss kit
Eduard
: BIG SIN 1/48 scale - Supermarine Spitfire Mk. XVI - World War II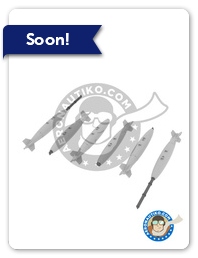 Eduard
: Bombs 1/72 scale - Mark Mk.82 - different locations - 6 units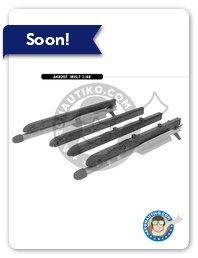 Eduard
: Missiles 1/48 scale - BGT IRIS-T - different locations - resins, photoetches, decals - 2 units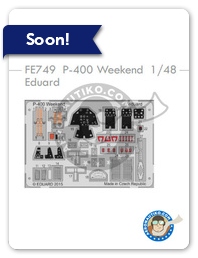 Eduard
: Coloured cockpit photoetches 1/48 scale - P-400 Air A Cuttie - World War II - for Eduard kit 8472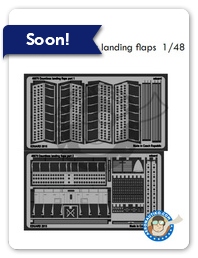 Eduard
: Photoetch 1/48 scale - Douglas SBD Dauntless 5 - World War II - for Eduard kit 1165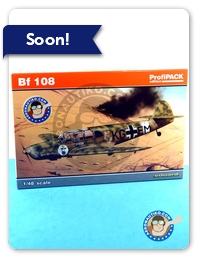 Eduard
: Airplane kit 1/48 scale - Messerschmitt Bf 108 Taifun - World War II - plastic model kit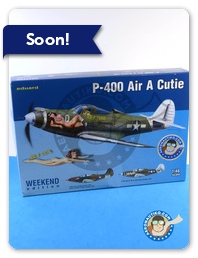 Eduard
: Airplane kit 1/48 scale - P-400 Air A Cuttie - World War II - plastic model kit
Eduard
: Airplane kit 1/48 scale - Douglas SBD Dauntless 5 - World War II - plastic model kit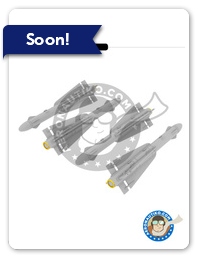 Eduard
: Missiles 1/48 scale - Hughes AIM-4 Falcon - different locations - resin, photoetches - 4 units
Eduard
: Bombs 1/72 scale - M117 - different locations - 6 units
Copyright
Aeronautiko