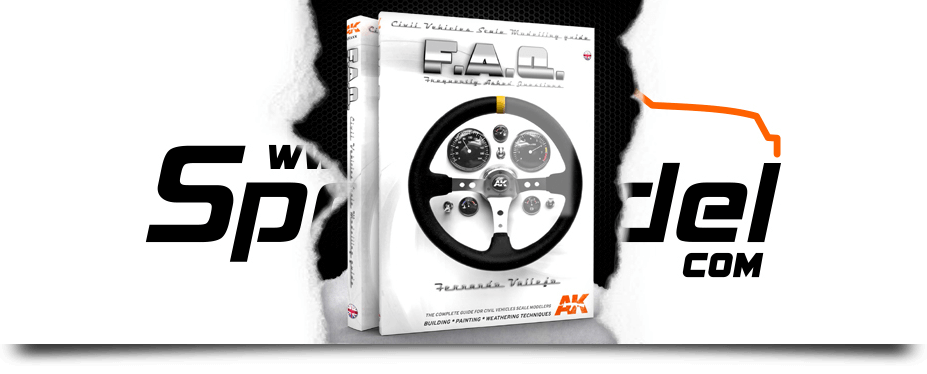 Ka-boooom!!
It's Christmas time, and here at
SpotModel
we don't want to stop giving you good news. After the succulent news of the previous weeks, today we introduce you a new
bombshell
:
AK Interactive's new book on civilian modeling

Yes, you read it right:
360 pages
that deal exclusively with civilian model vehicles, featuring the usual quality in AK titles and written by collaborators such as Fernando Vallejo, Clay Kemp, Rubén González Hernández, Barlas Pehlivan, Jan Rosecky, Fabrice Maréchal, Guy Golsteyn, Mario Covalski, Oscar Ebrí Casola, Gert Mertens, Yasuhiro Okugawa, and many other first-class modelers. Stay tuned to our website this week, because it
will be available any minute

Your perfect gift for these dates is at
SpotModel
... and you know it!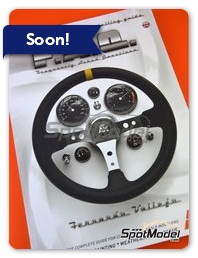 AK Interactive
: Book - Civil Vehicles Scale Modelling Guide: FAQ - ENGLISH edition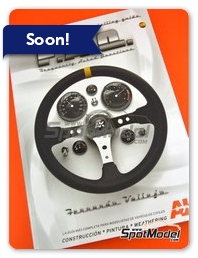 AK Interactive
: Book - Civil Vehicles Scale Modelling Guide: FAQ - SPANISH edition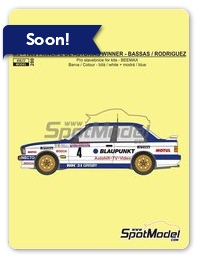 Reji Model
: Marking / livery 1/24 scale - BMW M3 E30 Blaupunkt #4 - Pep Bassas (ES) + Antonio Rodríguez (ES) - Principe de Asturias Rally 1989 - water slide decals, assembly instructions and painting instructions - for Beemax Model Kits reference B24007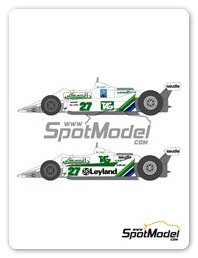 Shunko Models
: Marking / livery 1/20 scale - Williams Ford FW07 TAG Saudia #27 - Alan Jones (AU), Carlos Reutemann (AR), Clay Regazzoni (CH) - Brazilian Grand Prix, Dutch Grand Prix 1979 and 1980 - water slide decals and assembly instructions - for Tamiya reference TAM20014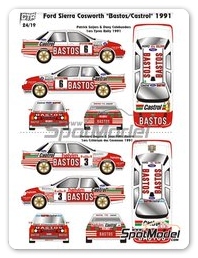 Renaissance Models
: Model car kit 1/24 scale - Ford Sierra Cosworth 4x4 Group A Bastos Castrol #3, 6 - Bernard Béguin (FR) + Jean-Marc Andrié (FR) - Ypres Rally, Rallye Critérium des Cévennes 1991 - metal parts, photo-etched parts, resin parts, rubber parts, vacuum formed parts, water slide decals, assembly instructions and painting instructions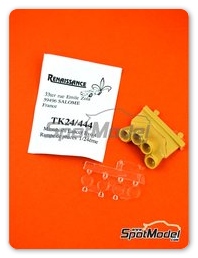 Renaissance Models
: Lamp pod 1/24 scale - Mitsubishi Lancer Evo IV - resin parts - for Hasegawa reference 20310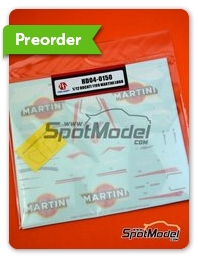 Hobby Design
: Marking / livery 1/12 scale - Ducati 1199 Panigale S Martini - water slide decals and assembly instructions - for Tamiya references TAM14129 and TAM14132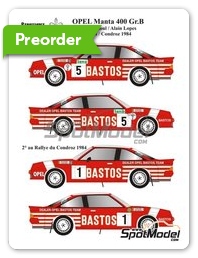 Renaissance Models
: Marking / livery 1/24 scale - Opel Manta 400 Group B Bastos #1, 5 - Guy Colsoul (BE) + Alain Lopes (BE) - Condroz Rally, Ypres Rally 1984 - water slide decals, assembly instructions and painting instructions - for Belkits references BEL008 and BEL009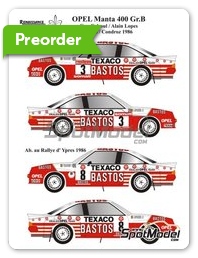 Renaissance Models
: Marking / livery 1/24 scale - Opel Manta 400 Group B Texaco Bastos #3, 8 - Guy Colsoul (BE) + Alain Lopes (BE) - Condroz Rally, Ypres Rally 1986 - water slide decals, assembly instructions and painting instructions - for Belkits references BEL008 and BEL009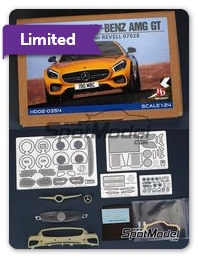 Hobby Design
: Detail up set 1/24 scale - Mercedes Benz AMG GT - photo-etched parts, resin parts, seatbelt fabric, other materials and assembly instructions - for Revell reference REV07028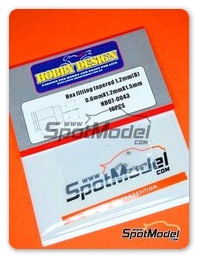 Hobby Design
: Hose joints - Hex fitting tapered 0.6x1.2x1.5mm - CNC metal parts - 10 units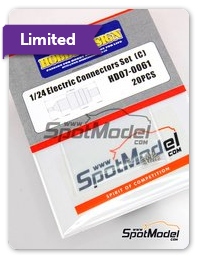 Hobby Design
: Detail 1/24 scale - Electric connectors set - 20 units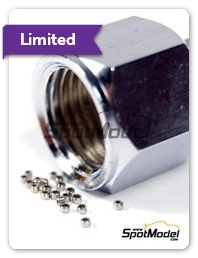 Hobby Design
: Hose joints - Hexagonal fitting tapered 1.00mm type A - 20 units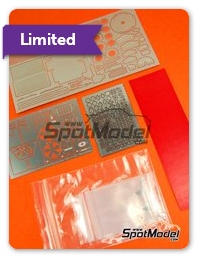 Hobby Design
: Detail up set 1/24 scale - Toyota Celica WRC - FIA WRC World Rally Championship 1993 - metal parts, photo-etched parts, resin parts and assembly instructions - for Tamiya reference TAM24125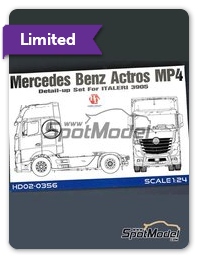 Hobby Design
: Detail up set 1/24 scale - Mercedes Benz Actros Gigaspace MP4 - photo-etched parts, resin parts, seatbelt fabric, other materials and assembly instructions - for Italeri references 3905 and 3905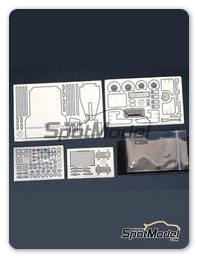 Hobby Design
: Detail up set 1/24 scale - Lancia Delta HF Integrale 16v - photo-etched parts, resin parts, turned metal parts, white metal parts and assembly instructions - for Hasegawa references 20289, 25008 and HACR08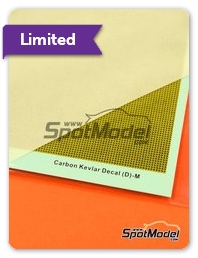 Hobby Design
: Decals 1/12 scale - Kevlar fiber with medium size pattern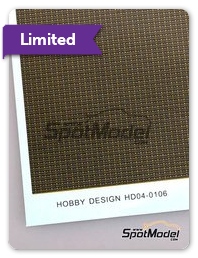 Hobby Design
: Decals 1/20 scale - Carbon Kevlar fiber pattern type D - small size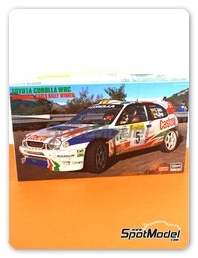 Hasegawa
: Model car kit 1/24 scale - Toyota Corolla WRC Castrol Movistar #5 - Carlos Sainz (ES) + Luis Moya (ES), Didier Auriol (FR) + Denis Giraudet (FR) - Montecarlo Rally 1998 - paint masks, photo-etched parts, plastic parts, rubber parts, water slide decals, other materials and assembly instructions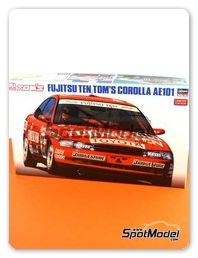 Hasegawa
: Model car kit 1/24 scale - Toyota Corolla AE101 Fujitsu Ten Tom's #36, 37 - Masanori Sekiya (JP) + Pierre-Henri Raphanel (FR), Kazuyoshi Hoshino (JP) + V. Rosso (AR) - plastic parts, rubber parts, water slide decals and assembly instructions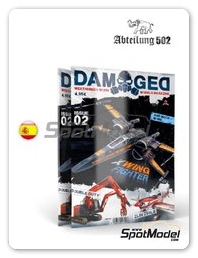 AK Interactive
: Magazine - Damaged - Weathered and worn: Number 2 - spanish edition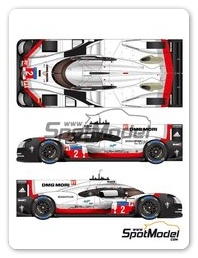 Studio27
: Model car kit 1/24 scale - Porsche 919 Hybrid DMG Mori #1, 2 - André Lotterer (DE) + Nick Tandy (GB) + Neel Jani (CH), Timo Bernhard (DE) + Earl Bamber (AU) + Brendon Hartley (AU) - 24 Hours Le Mans 2017 - photo-etched parts, resin parts, rubber parts, vacuum formed parts, water slide decals, white metal parts, other materials, assembly instructions and painting instructions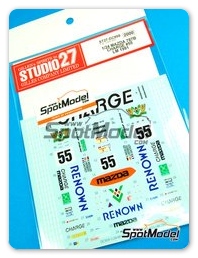 Studio27
: Marking / livery 1/24 scale - Mazda 787B Renown #55 - Volker Weidler (DE) + Johnn 'Johnny' Herbert (GB) + Bertrand Gachot (LU) - 24 Hours Le Mans 1991 - for Tamiya references TAM24112, TAM24326 and TAM24326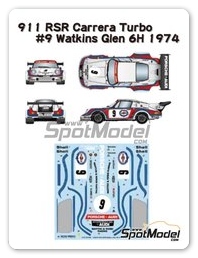 Studio27
: Marking / livery 1/24 scale - Porsche 911 Carrera RSR Turbo Martini Rossi Porsche Audi #9 - Gijs van Lennep (NL) + Herbert Müller (CH) - Watkins Glen 6 Hours 1974 - water slide decals, assembly instructions and painting instructions - for Fujimi reference FJ12648, or Model Factory Hiro reference MH-L-4
Copyright
SpotModel