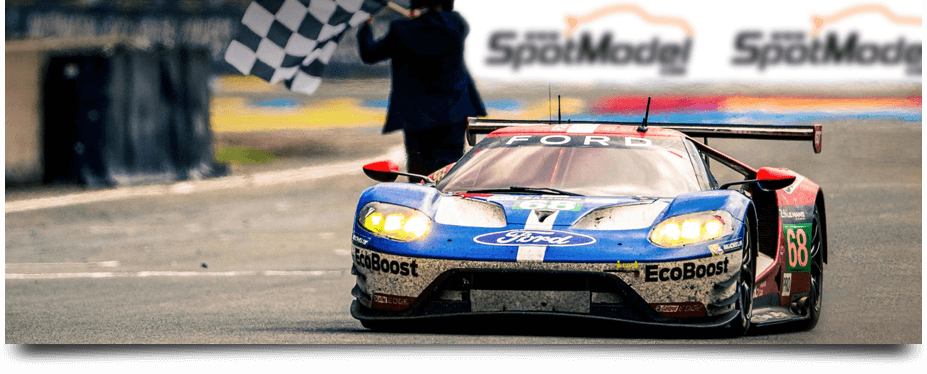 What else?
The
Ford GT
, winner of
Le Mans
in its category in
2016
, that
Revell
reproduced in
1/24 scale
and that you can already book in premiere at
SpotModel
.
And what else? Well, we also have the
Yamaha YZF-R1M
by
Tamiya
, arriving in September... And what else? Straight from the USA, by the hands of
AMT
, the
Edsel Pacer
kit in
1/24 scale
, arriving in a couple of weeks. Do you want some more...? No problem!! You can also reserve the transkit of the
Renault R8 Gordini
by
Scale Productions
, the
competition trailer
by
Italeri
and
the kits reissued by Hasegawa
.

But, do you still want more??? Of course we have more, much more, that you can see in the "
For preorder
" section inside the "What's new?" menu of the website.
At
SpotModel
we have everything, and more, and more, and even more.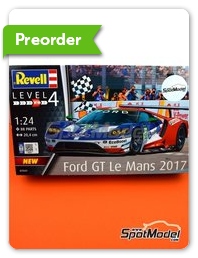 Revell
: Model car kit 1/24 scale - Ford GT #66 - 24 Hours Le Mans 2016 - plastic parts, rubber parts, water slide decals, assembly instructions and painting instructions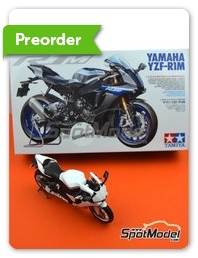 Tamiya
: Model bike kit 1/12 scale - Yamaha YZF-R1M - metal parts, plastic parts, rubber parts, water slide decals, assembly instructions and painting instructions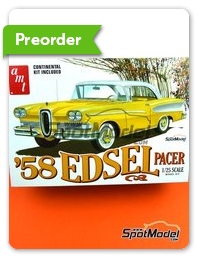 AMT
: Model car kit 1/25 scale - Edsel Pacer 1958 - rubber parts, water slide decals, assembly instructions and painting instructions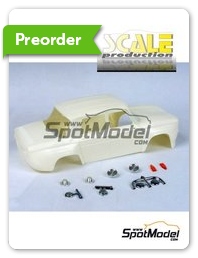 Scale Production
: Transkit 1/24 scale - Renault R8 Gordini - plastic parts, resin parts and turned metal parts - for Heller reference 80700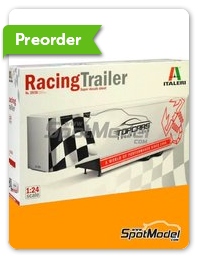 Italeri
: Model truck kit 1/24 scale - Racing trailer - plastic parts, water slide decals, assembly instructions and painting instructions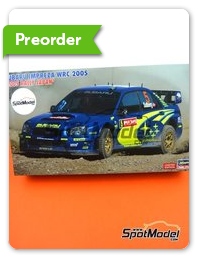 Hasegawa
: Model car kit 1/24 scale - Subaru Impreza WRC #5, 6 - Petter Solberg (NO) + Chris Atkinson (AU) - Japan rally 2005 - plastic parts, rubber parts, water slide decals, assembly instructions and painting instructions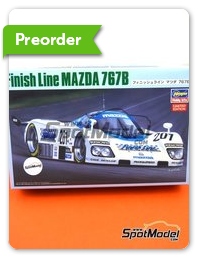 Hasegawa
: Model car kit 1/24 scale - Mazda 767B Finish Line #201 - Dave Kennedy (IE) + Pierre Dieudonne (BE) + C. Hodgetts (GB) - 24 Hours Le Mans 1989 - plastic parts, rubber parts, water slide decals, assembly instructions and painting instructions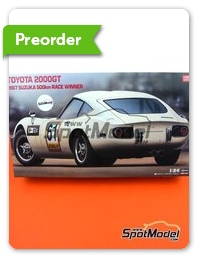 Hasegawa
: Model car kit 1/24 scale - Toyota 2000GT #60, 61 - Hiroshi Fushida (JP) - Suzuka 500km 1967 - plastic parts, rubber parts, water slide decals, assembly instructions and painting instructions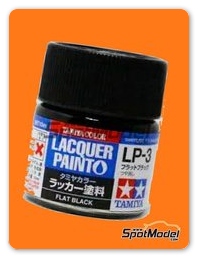 Tamiya
: Lacquer paint - Flat black LP-3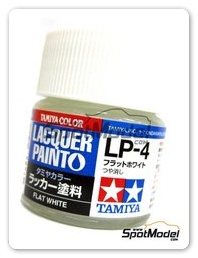 Tamiya
: Lacquer paint - Flat white LP-4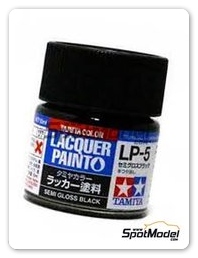 Tamiya
: Lacquer paint - Semi gloss black LP-5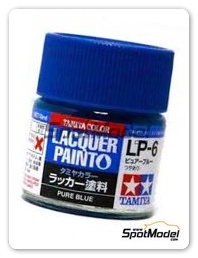 Tamiya
: Lacquer paint - Pure blue LP-6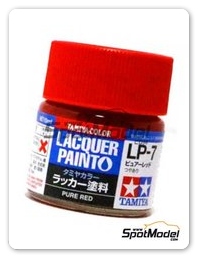 Tamiya
: Lacquer paint - Pure red LP-7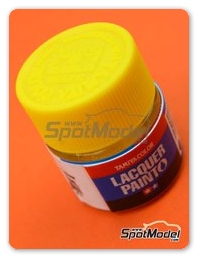 Tamiya
: Lacquer paint - Pure yellow LP-8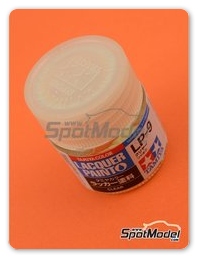 Tamiya
: Lacquer paint - Gloss clearcoat LP-9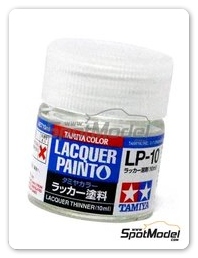 Tamiya
: Lacquer paint - Thinner LP-10 - for Tamiya references TAM82101, TAM82102, TAM82103, TAM82104, TAM82105, TAM82106, TAM82107, TAM82108, TAM82109, TAM82110, TAM82111, TAM82119, TAM82120, TAM82121, TAM82122, TAM82123, TAM82124 and TAM82127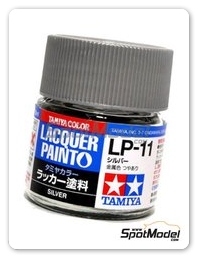 Tamiya
: Lacquer paint - Silver gloss LP-11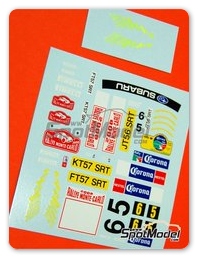 Renaissance Models
: Marking / livery 1/24 scale - Subaru WRC S12B #5, 6 - Petter Solberg (NO) + Chris Atkinson (AU) - Montecarlo Rally 2008 - water slide decals and assembly instructions - for Renaissance Models reference TK24-274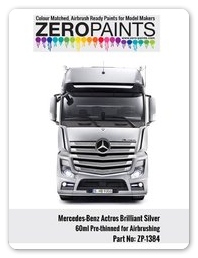 Zero Paints
: Paint - Mercedes-Benz Actros Brilliant Silver Paint - 60ml - for Italeri reference 3905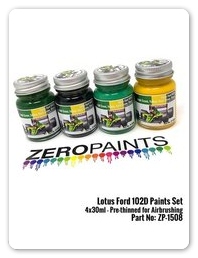 Zero Paints
: Paints set - Lotus Ford Type 102D - 4x30ml - for Tamiya reference TAM20033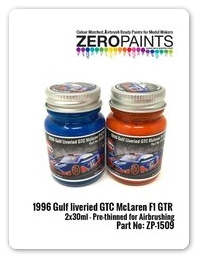 Zero Paints
: Paints set - 1996 Gulf liveried GTC McLaren F1 GTR Paint Set - 2x30ml - for Renaissance Models reference 026D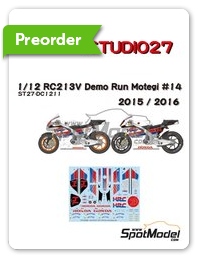 Studio27
: Marking / livery 1/12 scale - Honda RC213V HRC #14 - Fernando Alonso (ES) - Honda Racing Thanks Day Motegi 2016 - water slide decals and assembly instructions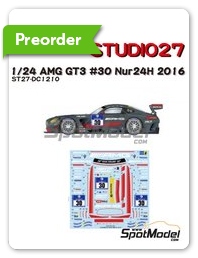 Studio27
: Marking / livery 1/24 scale - Mercedes Benz AMG GT3 AMG-Team HTP Motorsport #30 - Dominik Baumann (AT) + Stefan Mücke (DE) + Maximilian Buhk (DE) + Thomas Jäger (DE) - 24 Hours Nürburgring 2016 - water slide decals and assembly instructions - for Tamiya reference TAM24345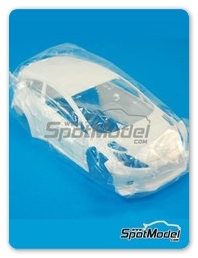 Belkits
: Spare part 1/24 scale - Ford Fiesta RS WRC: Body - plastic parts - for Belkits reference BEL-003
Copyright
SpotModel