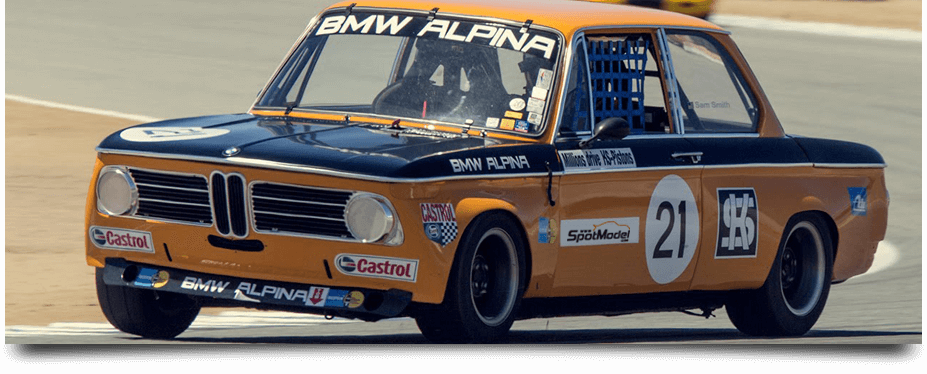 Scale Production
A few days ago we had the immense pleasure of visiting
Scale Production
headquarters, the German manufacturer that delights all modellers who love resin and metal parts based products. With years of experience and a truly juicy catalog, every new
Scale Production
release gives our bodies a really special tingle.
Thanks to that visit we got information of a "tiny pearl" that will be re-edited, nothing less than a
transkit
to be able to build the utterly famous and gorgeous
BMW 2002 Alpina
over the
Hasegawa
kit. We do not know the price yet, we just know that it will be available in May 2019, but you can now
add it to your wishlist and/or to your notifications
to be the first to know and to be sure you don't miss it... they will be sold out in hours!!!
SpotModel
and
Scale Production
, a winning team ;-)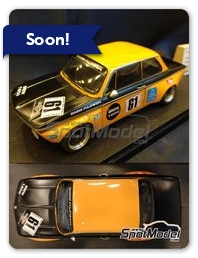 Scale Production
: Transkit 1/24 scale - BMW 2002 Alpina - resin parts, water slide decals and assembly instructions - for Hasegawa references 20332, 20354, HC-23, hsg20354, 4967834203549, 20381, HSG20381, 4967834203815, 21123, HC-23, 21124 and HC-24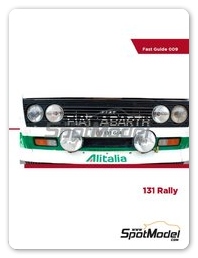 Komakai
: Reference / walkaround book - Fiat 131 Abarth Rally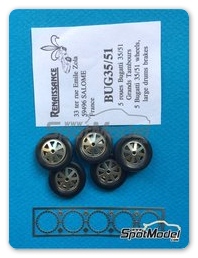 Renaissance Models
: Rims and tyres set 1/43 scale - Bugatti 35 rims and tyres with big brake - photo-etched parts and rubber parts - 5 units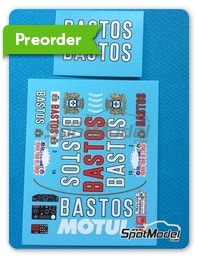 Renaissance Models
: Marking / livery 1/24 scale - BMW M3 E30 Rally Group A Bastos - Tour de Corse 1988 - water slide decals - for Beemax Model Kits reference B24016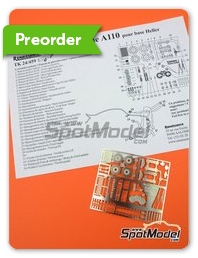 Renaissance Models
: Detail up set 1/24 scale - Alpine Renault A110 1600 S 1973 - photo-etched parts and assembly instructions - for Heller references 80745, HEL80745, 3279510807455, HE80745 and L761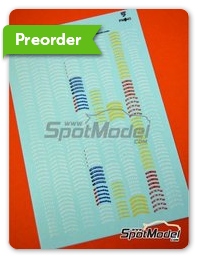 Interdecal
: Logotypes 1/43 scale - Falken, Proxes, Eagle, Good Year, Hoosier, Toyo tires, Dunlop, Pirelli, P Zero, Hankook, BF Goodrich, Bridgestone, Kumho, ECSTA, Eagle, Advan, Nitto, Idlers, Azenis, Michelin, ... - water slide decals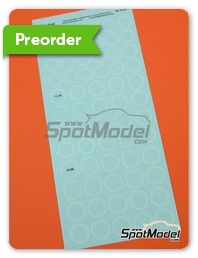 Interdecal
: Decals 1/43 scale - Whitewall tires - water slide decals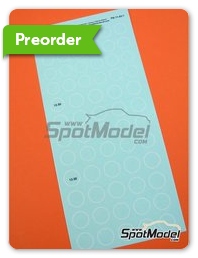 Interdecal
: Decals 1/43 scale - Whitewall tires - water slide decals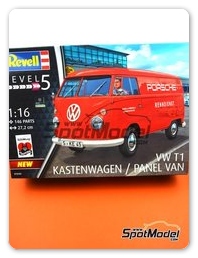 Revell
: Model van kit 1/16 scale - Volkswagen Transporter T1 Kastenwagen Porsche Renndienst - plastic parts, rubber parts, water slide decals, assembly instructions and painting instructions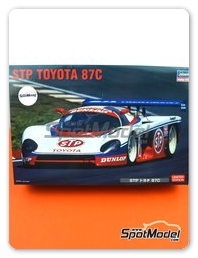 Hasegawa
: Model car kit 1/24 scale - Toyota 87C Group C Auto Beaurex Motorsport Team #3 - Steven Andskar (SE) + Andrew Gilbert-Scott (GB) - Japan Sport Prototype Endurance Championship (JSPC) 1988 - plastic parts, rubber parts, water slide decals, assembly instructions and painting instructions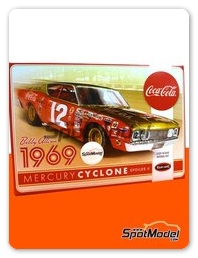 Polar Lights
: Model car kit 1/25 scale - Mercury Cyclone Spoiler II Coca Cola #12 - Robert Arthur 'Bobby' Allison (US) - Nascar - National Association for Stock Car Auto Racing 1969 - plastic parts, rubber parts, water slide decals, assembly instructions and painting instructions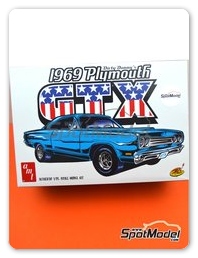 AMT
: Model car kit 1/25 scale - Plymouth GTX - Dirty Donny (US) 1969 - plastic parts, rubber parts, water slide decals and assembly instructions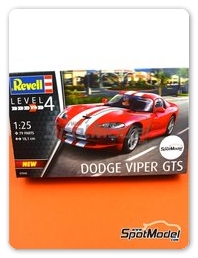 Revell
: Model car kit 1/25 scale - Dodge Viper GTS - plastic parts, rubber parts, water slide decals and assembly instructions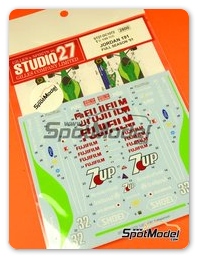 Studio27
: Marking / livery 1/20 scale - Jordan Ford J191 7Up Pepsi Fujifilm #32, 33 - Andrea de Cesaris (IT), Michael Schumacher (DE) - FIA Formula 1 World Championship 1991 - water slide decals and assembly instructions - for Tamiya references TAM20032 and 20032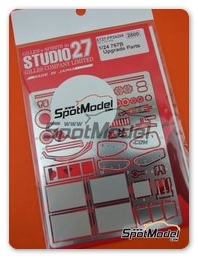 Studio27
: Detail up set 1/24 scale - Mazda 767B - photo-etched parts, seatbelt fabric, white metal parts and assembly instructions - for Hasegawa references 20312, 20325, 20359, hsg20359, 4967834203594, CC-18, CC-20, SP60, 51560, SP88 and 51588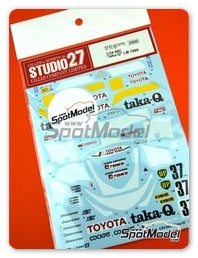 Studio27
: Marking / livery 1/24 scale - Toyota 88C taka-Q #37 - Paolo Barilla (IT) + Tiff Needell (GB) + Hitoshi Ogawa (JP) - 24 Hours Le Mans 1988 - water slide decals and assembly instructions - for Hasegawa references 20236 , CC02, CC-02, CC-2 and CC-5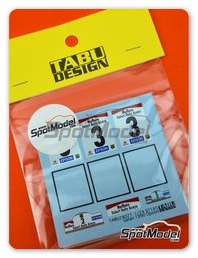 Tabu Design
: Marking / livery 1/24 scale - Toyota Celica GT-Four ST165 Group A Marlboro #3 - Safary Rally Kenya 1990 - water slide decals - for Beemax Model Kits references B24006 and Aoshima 097885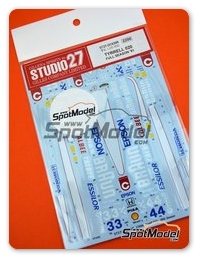 Studio27
: Marking / livery 1/20 scale - Tyrrell Honda 020 Braun Epson #3, 4 - Stefano Modena (IT), Satoru Nakajima (JP) - Brazilian Formula 1 Grand Prix, USA - United States of America Formula 1 Grand Prix, Test version 1991 - water slide decals and assembly instructions - for Tamiya references TAM20029 and 20029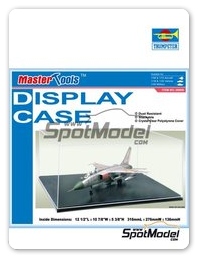 Trumpeter
: Display case - Display case - plastic parts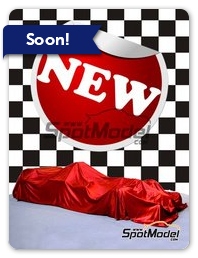 Renaissance Models
: Marking / livery 1/24 scale - Ford Fiesta WRC DMACK World Rally Team 2017 - water slide decals and assembly instructions - for Belkits reference BEL013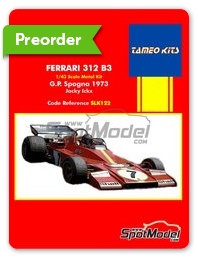 Tameo Kits
: Model car kit 1/43 scale - Ferrari 312 B3 Shell #7 1973 - rubber parts, vacuum formed parts, water slide decals, white metal parts, assembly instructions and painting instructions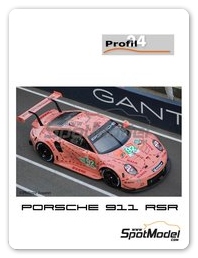 Profil24
: Model car kit 1/24 scale - Porsche 911 RSR Porsche Motorsport GT Team Pink Pig #92 - Kevin Estre (FR) + Michael Christensen (DK) + Laurens Vanthoor (BE) - 24 Hours Le Mans 2018 - photo-etched parts, resin parts, rubber parts, seatbelt fabric, vacuum formed parts, water slide decals, assembly instructions and painting instructions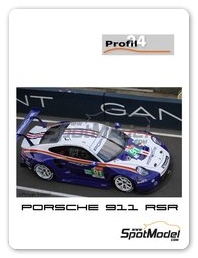 Profil24
: Model car kit 1/24 scale - Porsche 911 RSR Porsche Motorsport GT Team Rothmans #91 - Gianmaria Bruni (IT) + Richard Lietz (AT) + Frédéric Makowiecki (FR) - 24 Hours Le Mans 2018 - photo-etched parts, resin parts, rubber parts, seatbelt fabric, vacuum formed parts, water slide decals, assembly instructions and painting instructions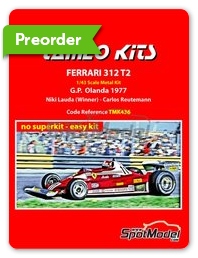 Tameo Kits
: Model car kit 1/43 scale - Ferrari 312 T2 Agip #11 - Niki Lauda (AT), Carlos Reutemann (AR) - Dutch Formula 1 Grand Prix 1977 - photo-etched parts, rubber parts, vacuum formed parts, water slide decals, white metal parts, assembly instructions and painting instructions
Copyright
SpotModel