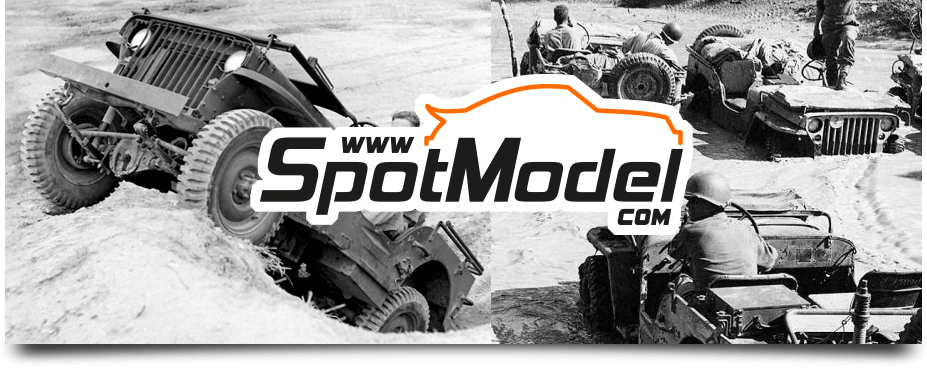 The beauty of simplicity
Cars are constantly evolving and today they are complex works of mechanical and electronic engineering, but this has not always been the case. We've all heard about the
Jeep Willys MB
, amazing in its simplicity and functionality. This vehicle has been used extensively as a military off-road vehicle and as such it had to meet strict requirements in terms of reliability, functionality and practicality.
It should also be easily and quickly repaired by a small military team. Proof of this, and just like as if it were a scale model, in
this video
we can watch how just eight men completely disassemble a Jeep in just a little bit over one minute: first they remove the hood and right after that the radiator. They unscrew a few bolts and just a few seconds later the body is separated from the chassis. After about 30 seconds from the start, the Jeep already has both axles removed and before even a minute has passed, this military team has also removed the engine. Apparently, this team is capable of disassembling and reassembling the Jeep in 2 minutes and 39 seconds.
Now, would these lads be able to assemble in that same amount of time the new
Italeri
model of the
Jeep Willys MB
in
1/24 scale
that you already have available at
SpotModel
? XD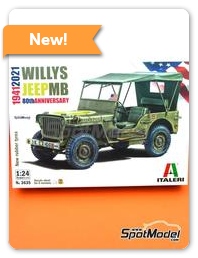 Italeri
: Model car kit 1/24 scale - Willys Jeep MB 1941 - 2021 - plastic parts, rubber parts, water slide decals, assembly instructions and painting instructions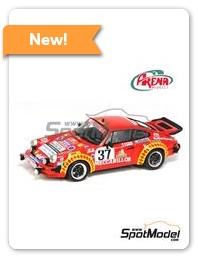 Arena Modelli
: Model car kit 1/43 scale - Porsche 911 Turbo sponsored by Meccarillos #37 - Claude Haldi (CH) - Monte Carlo Rally - Rallye Automobile de Monte-Carlo 1979 - photo-etched parts, resin parts, rubber parts, turned metal parts, water slide decals, white metal parts, assembly instructions and painting instructions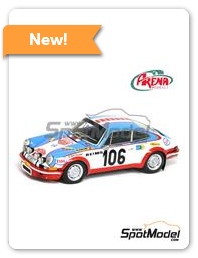 Arena Modelli
: Model car kit 1/43 scale - Porsche 911 sponsored by TAG Heuer #106 - Claude Haldi (CH) - Monte Carlo Rally - Rallye Automobile de Monte-Carlo 1972 - photo-etched parts, resin parts, rubber parts, turned metal parts, water slide decals, white metal parts, assembly instructions and painting instructions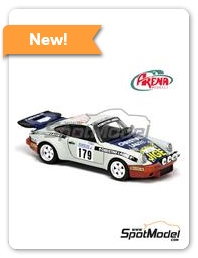 Arena Modelli
: Model car kit 1/43 scale - Porsche 911 Carrera RS 3.0 #179 - Rallye Criterium de Touraine 1977 - photo-etched parts, resin parts, rubber parts, turned metal parts, water slide decals, white metal parts, assembly instructions and painting instructions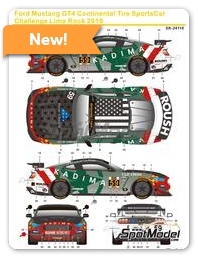 SK Decals
: Marking / livery 1/24 scale - Ford Mustang GT4 KohR Motorsports Team sponsored by Kadima #59 - Continental Tire SportsCar Challenge - Lime Rock 2018 - water slide decals and assembly instructions - for Tamiya reference TAM24354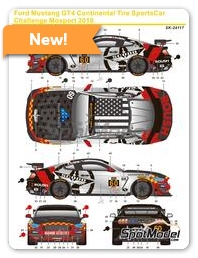 SK Decals
: Marking / livery 1/24 scale - Ford Mustang GT4 KohR Motorsports Team sponsored by Roush Scudo #60 - Continental Tire SportsCar Challenge - Mosport 2018 - water slide decals and assembly instructions - for Tamiya reference TAM24354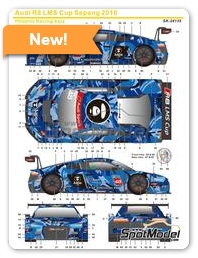 SK Decals
: Marking / livery 1/24 scale - Audi R8 LMS GT3 Phoenix Racing Asia Team sponsored by Aape #48 - Cup Sepang 2016 - water slide decals, assembly instructions and painting instructions - for Nunu references PN24004, NU-24004, PN24004, NUNPN24004, PN24024, PN-24024, PN24026, NU24026, PN24028 and NU24028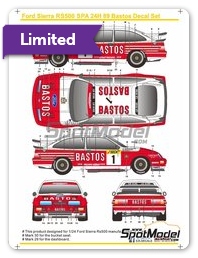 SK Decals
: Marking / livery 1/24 scale - Ford Sierra RS500 Group A sponsored by Bastos #1, 2 - 24 Hours SPA Francorchamps 1989 - water slide decals and assembly instructions - for Tamiya references TAM24080 and TAM24081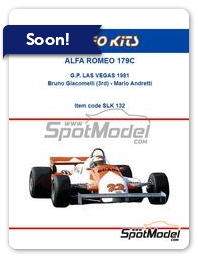 Tameo Kits
: Model car kit 1/43 scale - Alfa Romeo 179C sponsored by Marlboro #22, 23 - Bruno Giacomelli (IT), Mario Andretti (US) - Las Vegas Formula 1 Grand Prix 1981 - metal parts, photo-etched parts, rubber parts, turned metal parts, vacuum formed parts, water slide decals, white metal parts, assembly instructions, painting instructions and tobacco sponsor decals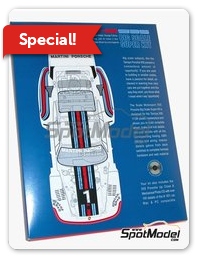 Scale Motorsport
: Detail up set 1/12 scale - Porsche 935 Turbo - CNC metal parts, photo-etched parts, turned metal parts, other materials, assembly instructions and painting instructions - for Tamiya references TAM12023, BS1223, TAM12038 and TAM12057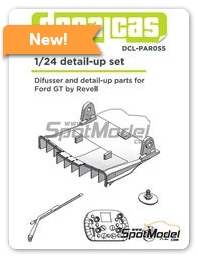 Decalcas
: Detail up set 1/24 scale - Ford GT - 24 Hours Le Mans 2017 - 3D printed parts, resin parts and assembly instructions - for Revell references REV07041 and 85-4418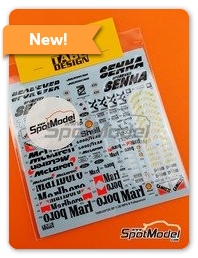 Tabu Design
: Marking / livery 1/20 scale - McLaren Ford MP4/8 McLaren Racing Limited Team sponsored by Marlboro - Ayrton Senna da Silva (BR), Mika Häkkinen (FI), Michael Andretti (US) - FIA Formula 1 World Championship 1993 - water slide decals - for Tamiya references TAM20039 and TAM25172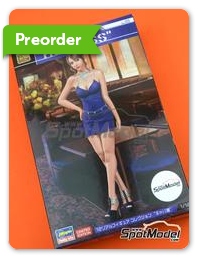 Hasegawa
: Figure 1/12 scale - Hostess - resin parts and assembly instructions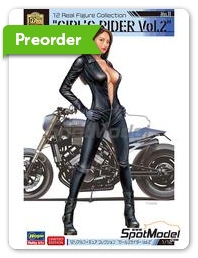 Hasegawa
: Figure 1/12 scale - Girls Rider Vol.2 - resin parts and assembly instructions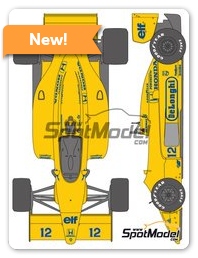 Shunko Models
: Marking / livery 1/20 scale - Lotus Honda 99T Lotus Team sponsored by De Longhi Camel #11, 12 - Ayrton Senna da Silva (BR), Satoru Nakajima (JP) - FIA Formula 1 World Championship 1987 - water slide decals and assembly instructions - for Tamiya references TAM20020 and TAM20057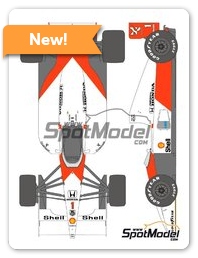 Shunko Models
: Marking / livery 1/12 scale - McLaren Honda MP4/6 McLaren Racing Limited Team sponsored by Marlboro #1, 2 - Ayrton Senna da Silva (BR), Gerhard Berger (AT) - FIA Formula 1 World Championship 1991 - water slide decals, assembly instructions and tobacco sponsor decals - for Tamiya references TAM12028, TAM49571 and TAM89721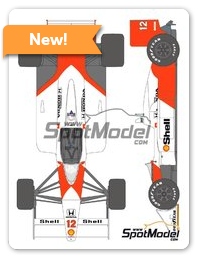 Shunko Models
: Marking / livery 1/20 scale - McLaren Honda MP4/4 McLaren Racing Limited Team sponsored by Marlboro #11, 12 - Ayrton Senna da Silva (BR), Alain Prost (FR), Emanuele Pirro (IT) - FIA Formula 1 World Championship 1988 - water slide decals, assembly instructions and tobacco sponsor decals - for Tamiya references TAM20022, TAM89719 and TAM92208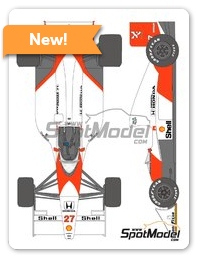 Shunko Models
: Marking / livery 1/20 scale - McLaren Honda MP4/5B McLaren Racing Limited Team sponsored by Marlboro #27, 28 - FIA Formula 1 World Championship 1990 - water slide decals, assembly instructions and tobacco sponsor decals - for Tamiya references TAM20026 and TAM89720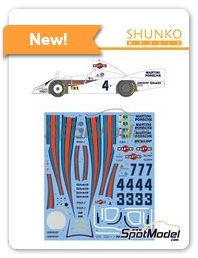 Shunko Models
: Marking / livery 1/24 scale - Porsche 936/77 Martini International Racing Team #3, 4, 7 - 24 Hours Le Mans 1977 and 1978 - water slide decals and assembly instructions - for Tamiya reference TAM24004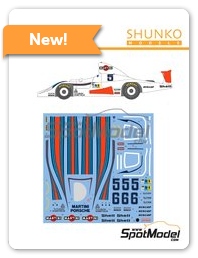 Shunko Models
: Marking / livery 1/24 scale - Porsche 936/78 Martini International Racing Team #5, 6 - 24 Hours Le Mans 1978 - water slide decals and assembly instructions - for Tamiya reference TAM24012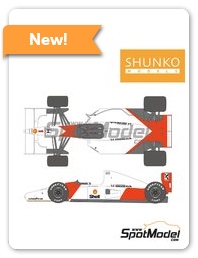 Shunko Models
: Marking / livery 1/20 scale - McLaren Honda MP4/7 McLaren Racing Limited Team sponsored by Marlboro #1, 2 - Ayrton Senna da Silva (BR), Gerhard Berger (AT) - FIA Formula 1 World Championship 1992 - water slide decals, assembly instructions and tobacco sponsor decals - for Tamiya references TAM20035 and TAM25171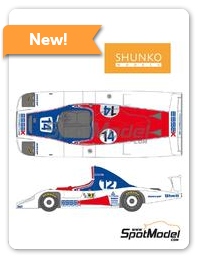 Shunko Models
: Marking / livery 1/24 scale - Porsche 936/78 sponsored by Essex Motorsport #12, 14 - 24 Hours Le Mans 1979 - water slide decals and assembly instructions - for Tamiya reference TAM24012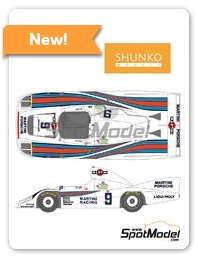 Shunko Models
: Marking / livery 1/24 scale - Porsche 936/80 Martini Racing Team #9 - Jacques Bernard 'Jacky' Ickx (BE) + Reinhold Joest (DE) - 24 Hours Le Mans 1980 - water slide decals and assembly instructions - for Tamiya reference TAM24004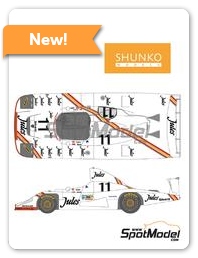 Shunko Models
: Marking / livery 1/24 scale - Porsche 936/80 sponsored by Jules #11, 12 - Jacques Bernard 'Jacky' Ickx (BE), Derek Bell (GB) - 24 Hours Le Mans 1981 - water slide decals and assembly instructions - for Tamiya reference TAM24012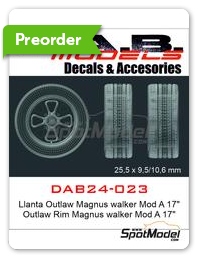 D.A.B. Models
: Rims and tyres set 1/24 scale - Outlaw Magnus Walker Type A - 17" inches - 3D printed parts - 4 units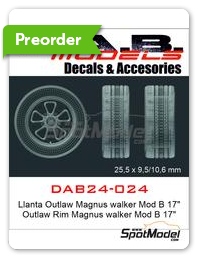 D.A.B. Models
: Rims and tyres set 1/24 scale - Outlaw Magnus Walker Type B - 17" inches - 3D printed parts - 4 units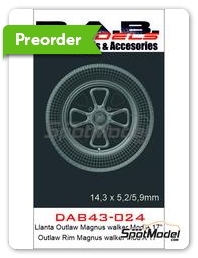 D.A.B. Models
: Rims and tyres set 1/43 scale - Outlaw Magnus Walker Type A - 17" inches - 3D printed parts - 4 units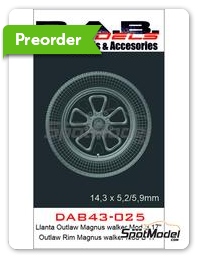 D.A.B. Models
: Rims and tyres set 1/43 scale - Outlaw Magnus Walker Type B - 17" inches - 3D printed parts - 4 units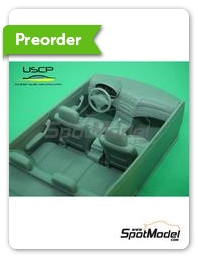 Ukrainian Scale Cars Production
: Transkit 1/24 scale - BMW 320i e46 Street Version - resin parts, water slide decals manufactured with digital technology and assembly instructions - for Nunu references PN24007, NU-24007, PN24033 and NU-24033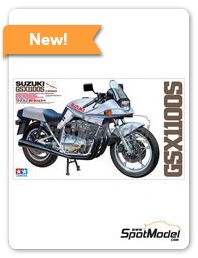 Tamiya
: Model bike kit 1/6 scale - Suzuki Katana GSX 1100S 1981 - metal parts, plastic parts, rubber parts, water slide decals, other materials, assembly instructions and painting instructions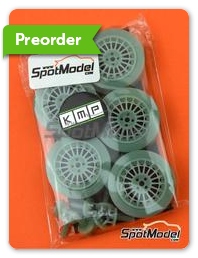 KMP Kool Models Production
: Rims and tyres set 1/24 scale - Speedline for Lancia Delta HF 1992 - 3D printed parts - 4 units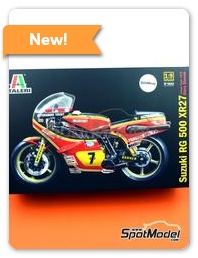 Italeri
: Model bike kit 1/9 scale - Suzuki RG500 XR27 Heron Team sponsored by Forward Trust #7 - Barry Sheene (GB) - Motorcycle World Championship 1978 - metal parts, plastic parts, rubber parts, water slide decals, other materials, assembly instructions and painting instructions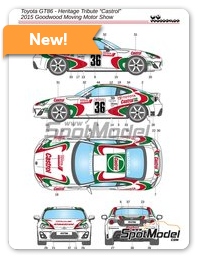 LB Production
: Marking / livery 1/24 scale - Toyota GT86 Toyota Europe Team sponsored by Castrol #36 - Goodwood Moving Motor Show 2015 - water slide decals and assembly instructions - for Tamiya reference TAM24323
Copyright
SpotModel