This is what I'm going to paint for a "decent quickie"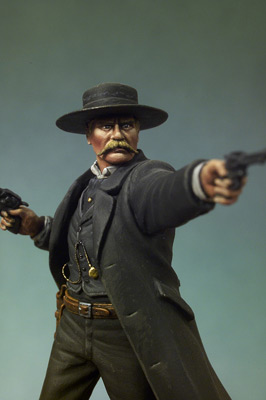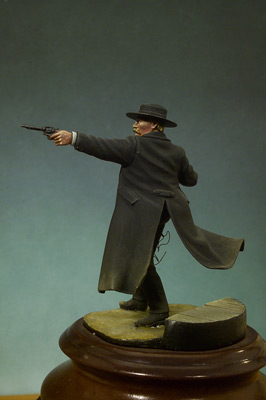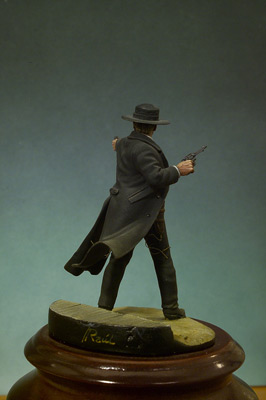 Andrea Miniatures 54mm Wyatt Earp, during the Most Famous gunfight of the Wild West.......OK Corall, Tombstone County, Arizona  October 26, 1881......
Participants were the Earl brothers Virgil, Morgan, and Wyatt Earp, and Doc Holliday vs. Tom and Frank McLaury, Billy and Ike Clanton.....

Here is some background information courtesy of Wikipedia

 

The Gunfight at the O.K. Corral was a gunfight that took place at about 3:00 p.m. on Wednesday, October 26, 1881, in Tombstone, Arizona Territory, and is generally regarded as the most famous gunfight in the history of the American Old West. The gunfight, believed to have lasted only about thirty seconds, was fought between the outlaw Cowboys Billy Claiborne, Ike and Billy Clanton, and Tom and Frank McLaury, and the opposing town Marshal Virgil Earp and his brothers Assistant Town Marshal Morgan and temporary lawman Wyatt, aided by Doc Holliday designated as a temporary marshal by Virgil. Ike Clanton and Billy Claiborne ran from the fight unharmed, but Ike's brother Billy Clanton was killed, along with both McLaurys. Lawmen Virgil and Morgan Earp were wounded. Wyatt Earp and Doc Holliday came through the fight unharmed. The fight has come to represent a time in American history when the frontier was open range for outlaws opposed by law enforcement that was spread thin over vast territories, leaving some areas unprotected.

The gunfight was not well known to the American public until 1931 when author Stuart Lake published what has since been determined to be a largely fictionalized biography, Wyatt Earp: Frontier Marshal, two years after Earp's death.[1] Lake retold his story in a 1946 book that director John Ford developed into the movie My Darling Clementine.[1] After the movie Gunfight at the O.K. Corral was released in 1957, the shootout came to be known by that name. Since then, the conflict has been portrayed with varying degrees of accuracy in numerous Western films and books.

Despite its name, the gunfight actually occurred in a narrow lot six doors west of the rear entrance to the O.K. Corral on Fremont Street, and also in the street. The two opposing parties were initially only about 6 feet (1.8 m) apart. About thirty shots were fired in thirty seconds. Ike Clanton filed murder charges against the Earps and Doc Holliday but they were eventually exonerated by a local judge after a 30-day preliminary hearing and then again by a local grand jury.

On December 28, 1881, Virgil Earp was maimed in a murder attempt by the outlaw Cowboys, and on March 18, 1882, they murdered Morgan Earp. The suspects furnished solid alibis, and newly appointed Deputy U.S. Marshal Wyatt Earp took matters into his own hands during the Earp Vendetta Ride, pursued by county Sheriff Johnny Behan with warrants for the Earps' arrest.

 

The only slight modification was the lengthening of the legs as Andrea produced him a bit too short & stocky

whereas Wyatt Earp was 1.83m tall, so had to add 2mm at the knee area to lengthen the figure to a more accurate 54mm