Hi guys,
This is my first post. I would like to share with U, my old Rolls, built from aluminum, and clock mechanisms.
This project was an attempt to make a model car work like the real car! It is very difficult to complete a fully workable model, since the modeller must have a large variety of Mechanical Engineering knowledge and clever choices to achieve a good result.
The model was constructed 20 years ago with no computer help at all; nor any other information was available to make life easier those years!
So, everything was designed using paper, a calculator, ruler, bow compass and great patience!!!!
The scale is 1/12, which was the most suitable for this idea, as far as the materials already at hand in the laboratory are concerned. The materials used are metal sheet, aluminium sheet, rubber, a large mount of broken watches' mechanisms, leather, and many small items suitable for the construction. The paint colour is an authentic car one, taken from a Ford Cortina m.y. 1973.
It works like the real one. Its a fact. You have to push the brake to stop etc. An exact copy of the real one.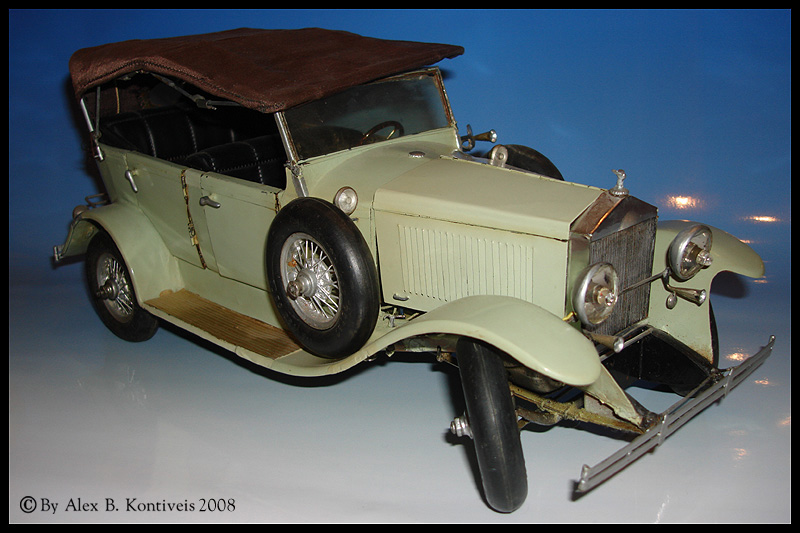 HOW IT WORKS
At first imagine your self 12 times smaller!!! Congratulations!!! You own a brand new 1923 Rolls!!!
Please open the door!!!!
Enjoy the convenience of the soft real leather seat!!!
Turn on the ignition on your left
If its dark, just switch on the lights on your right
Release the hand break
Press the clutch and push the gear lever one step front
Release the clutch and start pressing the accelerator
That's it, you start moving!!!
Press the clutch again and choose the second gear
Beware of the wall in front of you!!!!
Press immediately the brake!!!
You stopped already?
Nice. Now press the clutch again and press the gear lever two times for the reverse. Now you must be moving backwards.
Ok. Stop. End of the ride!
Switch off everything and get out of the car. Take a breath!!!
Did you enjoy your ride???
Everything works like a real car. Only a nano-driver is missing, anyway!!!
CONSTRUCTION
I will not tire you, analyzing the way of building, because it is very difficult (as I have told you before) to explain all the mechanical design and appliance. So I will make a short reference on how it works.
For the record, the building process took more than 9 months of continual work, with great disappointments and great pleasures. The Rolls Royce mark over the refrigerator was made of pure silver by my father.
Everything else is hand made since in 1987 we didn't have the technological solutions we enjoy these days. It's powered with a battery and an electric motor. The fluxion and the gearbox are constructed from pieces of old watches, based on the basic theory of their real mechanical function.
I hope you like it.
Last edited by Alex Kontiveis on Thu Aug 06, 2009 12:48 pm; edited 1 time in total