1/72nd Fw-190's and Airfix P-40

Ray

Best in Show





Posts

: 6102


Join date

: 2009-07-21


Age

: 56


Location

: Zurrieq MALTA

As usual, very nice work Gordon


Jerzy Ciupek

Bronze





Posts

: 307


Join date

: 2010-10-07


Age

: 46


Location

: Rybnik-Poland

Well done Gordon. BRAVO!!!

slingshot392

Silver





Posts

: 467


Join date

: 2010-02-19


Age

: 57


Location

: Minnesota, USA

Nice builds! Like your P-40, I was at a model show this weekend and I picked one up, first Airfix model I have had since the mid-70s. Panel lines looked a little heavy, other then than it looked pretty nice, especially for the price.

Did you run into any issues during the build? I have seen some builds on the Internet where the back of the canopies seems to sit really high, yours looks a lot better, did you do anything to the canopy or did it just fit good right away?

Scirocco

Bronze





Posts

: 219


Join date

: 2010-05-07


Age

: 52


Location

: Birzebbuga

Yes the rear of the canopy sits quite high as I think it is intended to be opened. All I did was to sand off the frame on the edge as much as I could, and rounded it a little as it is moulded as a very sharp corner! Otherwise it's a relatively easy build, and looks nice once finished. If you use the kit decals there is a slight mistake I only noticed quite a while after I finished it! The red lady figure is forward facing on the Airfix decals (mirror images), but it should be facing back on the starboard side, ie you will need another decal sheet to take just that from it.
Some more pictures: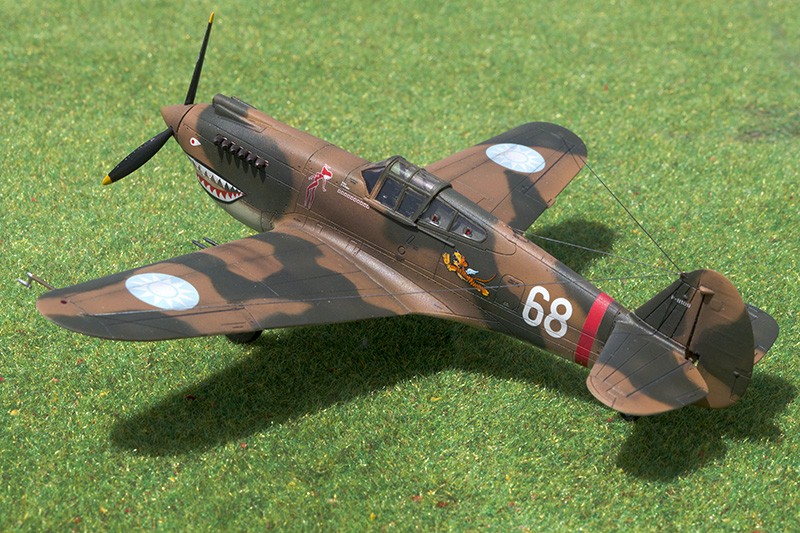 bcauchi

Best in Show





Posts

: 4088


Join date

: 2009-07-30


Age

: 58


Location

: St. Julian's

Lovely model Gordon, good to see your work, had not seen anything for quite some time.

slingshot392

Silver





Posts

: 467


Join date

: 2010-02-19


Age

: 57


Location

: Minnesota, USA

Thanks for the tip on the canopy, a very simple solution and it looks really good. I was planning some Flying Tigers in larger scales if I ever get to them, so I am thinking of ordering these decals, some nice different markings rarely seen on models, really leaning towards the one with the cards on the side.

http://www.ebay.com/itm/Starfighter-Decals-1-72-CURTISS-P-40B-WARHAWK-Pre-War-USAAC-Aircraft-/360663720841?pt=Model_Kit_US&hash=item53f93ba389