Canberra in malta.

Guest

Guest



follow this link, http://www.timesofmalta.com/articles/view/20101210/local/canberra

bcauchi

Best in Show





Posts

: 4088


Join date

: 2009-07-30


Age

: 59


Location

: St. Julian's

Prosit Joe, i don;t know how i missed this, it is great to have a canberra to see close up. Our Aviation Museum is getting better and better!

AdriaN

Gold





Posts

: 925


Join date

: 2009-08-06


Age

: 31


Location

: St Julians

http://raf-luqa.lefora.com/composition/attachment/ee40ac5e489e7670b95e97cf6de3b818/511835/No13Squadronaircrew1978WJ815CanbPR7.jpg

David

Silver





Posts

: 421


Join date

: 2009-07-22


Age

: 58

This evening I got to work
Surprise Canberra is next to control tower still in parts
I knew that MATS bought a Canberra but the times article was confusing in saying that it will be placed at the aviation museum
71438 WT483 EE Canberra T4 Pres. Long Marston, to Malta 12/2010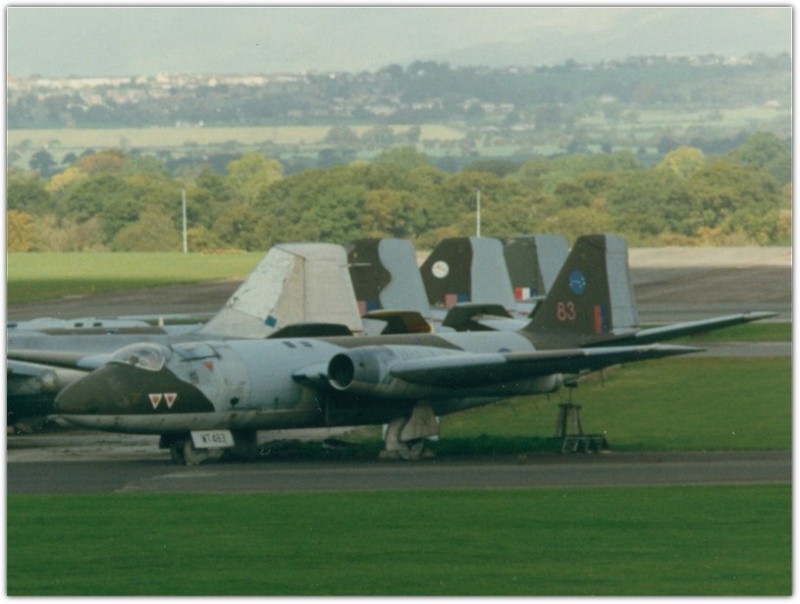 T.4 - WT483
(Both photos, copyright : Damien Burke)
This Canberra T.4 entered service in 1955 with 69 Sqd at RAFG Laarbruch. For a few years its ownership swung between Laarbruch's Station Flight and 69 (PR) Sqd. WT483 was transferred to 231 OCU (RAF Bassingbourn), then on to 39 Sqd (RAF Wyton), back to 231 OCU and eventually sold to BAC in 1981.
It was dismantled and moved to Filton in 1986 and finally sold to the Stratford Aircraft Collection in 1989.
T.4s were not always painted in camoflage schemes, this seems to be a fairly recent style. They were usually in overall gloss grey/silver - a polyurathene grey colour - with dayglo stripes identifying it as a "Trainer". WT483 here seems to sport a 7 Sqd badge on its fin - (7 stars in the shape of "The Plough" on a blue disk) - although it isn't recorded as ever having been on 7 Sqdn.
WT483 is now preserved at the Stratford Aircraft Collection, Long Marston - but it looks in a bit of a poor state - no engines, sagging nose oleo, faded colour scheme, and supported by a body trestle (just aft of bomb-bay) - all-in-all, it looks a bit dejected. It is a survivor however, and mostly all in one piece, thanks to its owner.
http://www.bywat.co.uk/wt483.html

David

Silver





Posts

: 421


Join date

: 2009-07-22


Age

: 58

another forum same aircraft

http://www.fightercontrol.co.uk/forum/viewtopic.php?f=17&t=18086&p=101594&hilit=canberra+store#p101594