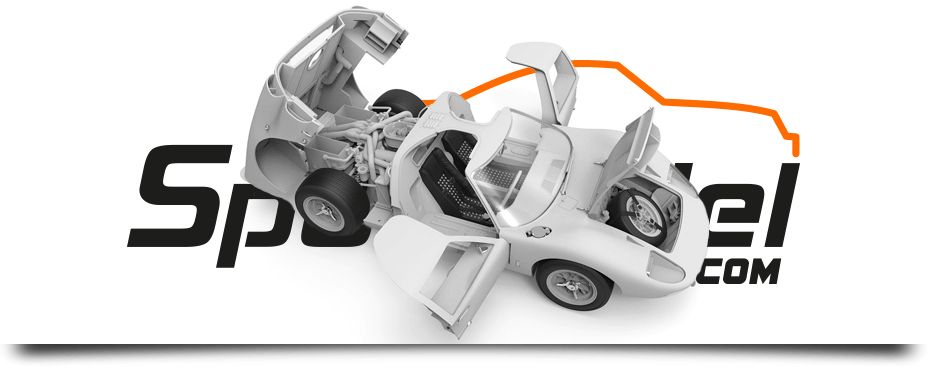 The GT40 by Meng
Hardly any details are known about the
1/12 scale
model that
Meng
is preparing of the
Ford GT40 Mk.II
. A few months ago they showed the box design, a few weeks ago they uploaded images of the 3D designs, a few days ago they showed images of an assembled model and yesterday they provided us with an estimated sale price and possible supply date in Europe, scheduled for the end of the year. And
on the record
, this is all we can tell you at this moment...
But off the record, we can tell you that we are looking forward to the moment we have the model on the table!!! The boss has already started clearing the assembly table to make room for the new kid. Although we will have to make use of that patience of which we scale modelers boast so much: we are seeing and suffering many delays and changes the product release date so it is very possible that we will have to wait a little longer.
We are overwhelmed by emotion and a lot of questions pop up in our minds: will there be decals to make other versions? will there be different versions of the model? is it going to be as awesome as it looks? Can't wait for it! : D
In the meantime, don't panic: you can
pre-order
your scale model at
SpotModel
right away, while you can also take home some fresh novelties to make the wait more bearable.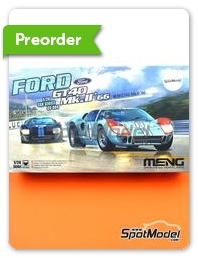 Meng Model
: Model car kit 1/12 scale - Ford GT40 Mk.II Shelby American Team #1 - Denis Clive 'Denny' Hulme (NZ) + Ken Miles (US) - 24 Hours Le Mans 1966 - photo-etched parts, plastic parts, rubber parts, water slide decals, assembly instructions and painting instructions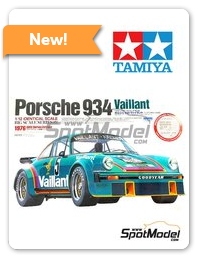 Tamiya
: Model car kit 1/12 scale - Porsche 934 Turbo RSR Group 4 Kremer Racing Team sponsored by Vaillant #5 - Robert 'Bob' Wollek (FR) - German Racing GTs Championship 1976 - photo-etched parts, plastic parts, rubber parts, seatbelt fabric, water slide decals, other materials, assembly instructions and painting instructions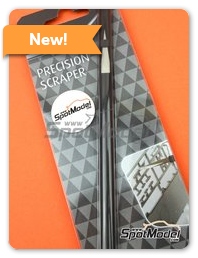 Revell
: Hobby tool - Precision Scraper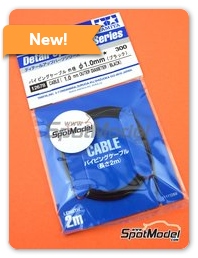 Tamiya
: Piping cord - Black wire 1.00mm - other materials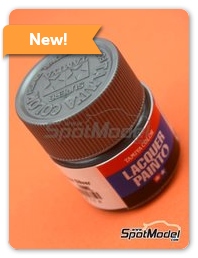 Tamiya
: Lacquer paint - Mica Silver LP-72 - 1 x 10ml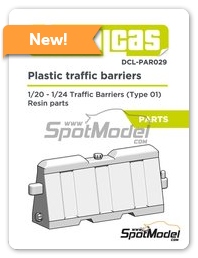 Decalcas
: Detail 1/24 scale - Plastic traffic barriers type 01 - resin parts - 2 units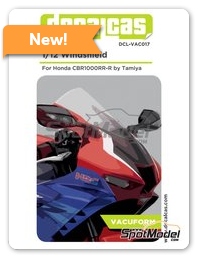 Decalcas
: Vacuum formed parts 1/12 scale - Honda CBR1000RR-R Fireblade SP - vacuum formed parts - for Tamiya reference TAM14138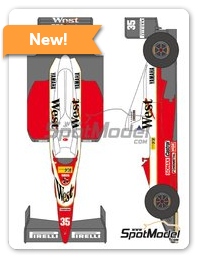 Shunko Models
: Marking / livery 1/24 scale - Zakspeed Yamaha ZK 891 Zakspeed F1 Team sponsored by West #34, 35 - Aguri Suzuki (JP), Bernd Schneider (DE) - FIA Formula 1 World Championship 1989 - water slide decals, assembly instructions and tobacco sponsor decals - for Hasegawa reference 20324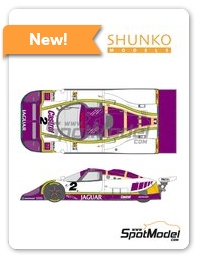 Shunko Models
: Marking / livery 1/24 scale - Jaguar XJR-9 LM Silk Cut Works Team #1, 2, 3, 21, 22 - Martin Brundle (GB) + John Nielsen (DK), John Watson (GB) + Raul Boesel (BR) + Henri Pescarolo (FR), Danny Sullivan (US) + Alan Jones (AU) + Price Cobb (US), Derek Daly (IE) + Kevin Cogan (US) - 24 Hours Le Mans 1988 - water slide decals, assembly instructions and tobacco sponsor decals - for Tamiya reference TAM24084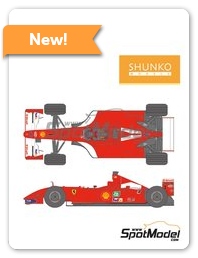 Shunko Models
: Marking / livery 1/20 scale - Ferrari F2001 Scuderia Ferrari Team sponsored by Marboro #1, 2 - Michael Schumacher (DE), Rubens Barrichello (BR) - FIA Formula 1 World Championship 2001 - water slide decals, assembly instructions and tobacco sponsor decals - for Tamiya reference TAM20052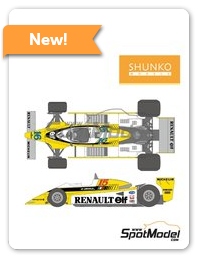 Shunko Models
: Marking / livery 1/12 scale - Renault Gordini RE20 Turbo Equipe Renault Team sponsored by ELF #15, 16 - Rene Arnoux (FR), Jean-Pierre Jabouille (FR) - FIA Formula 1 World Championship 1980 - water slide decals and assembly instructions - for Tamiya references TAM12026, BS1226, 1226 and TAM12033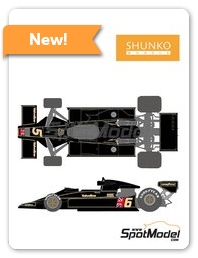 Shunko Models
: Marking / livery 1/12 scale - Lotus Ford Type 78 Lotus Team Team sponsored by John Player Special #5, 6 - Mario Andretti (US), Gunnar Nilsson (SE) - FIA Formula 1 World Championship 1977 - water slide decals, assembly instructions and tobacco sponsor decals - for Tamiya references TAM12022, BS1222 and TAM12037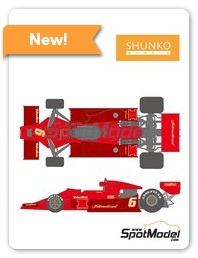 Shunko Models
: Marking / livery 1/12 scale - Lotus Ford Type 78 Lotus Team Team sponsored by Imperial International #6 - Gunnar Nilsson (SE) - Japanese Formula 1 Grand Prix 1977 - water slide decals, assembly instructions and tobacco sponsor decals - for Tamiya references TAM12022, BS1222 and TAM12037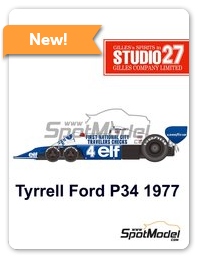 Studio27
: Marking / livery 1/20 scale - Tyrrell Ford P34 Tyrrell Racing Team sponsored by ELF #3, 4 - Early season 1977 - resin parts, water slide decals, white metal parts and assembly instructions - for Fujimi references FJ090900, 09090, GP-34, FJ090924, 09092, GP-35, FJ090962, 09096, GP-39, FJ09098, 090986, GP-40, FJ090986, 09098, GP-40, FJ09149, GP-48, FJ091914, 09191, GP-59 and FJ11385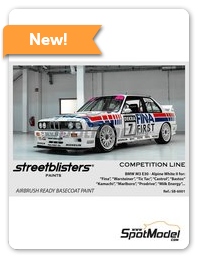 StreetBlisters
: Paint for airbrush - BMW Alpine White II - 1 x 30ml - for Beemax Model Kits references B24007, Aoshima 098196, B24016 and B24019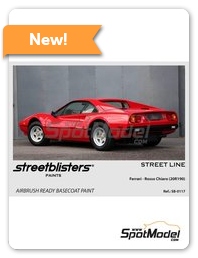 StreetBlisters
: Paint for airbrush - Ferrari Rosso Chiaro 20R190 Red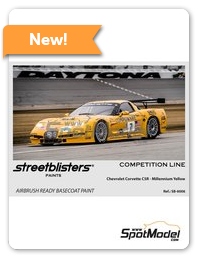 StreetBlisters
: Paints set for airbrush - Chevrolet Millennium Yellow - 2 x 30ml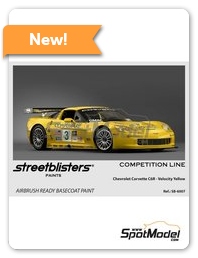 StreetBlisters
: Paint for airbrush - Chevrolet Velocity Yellow Tintcoat - 1 x 30ml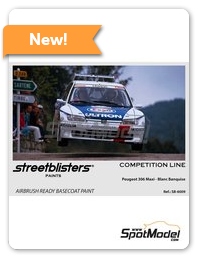 StreetBlisters
: Paint for airbrush - Peugeot 306 Maxi Blanc Banquise White - 1 x 30ml - for Nunu reference PN24009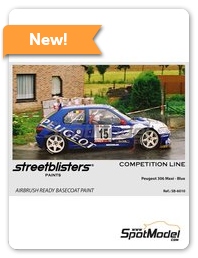 StreetBlisters
: Paint for airbrush - Peugeot 306 Maxi Blanc Blue - 1 x 30ml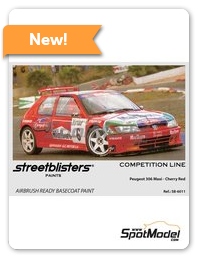 StreetBlisters
: Paint for airbrush - Peugeot 306 Maxi Cherry Red - 1 x 30ml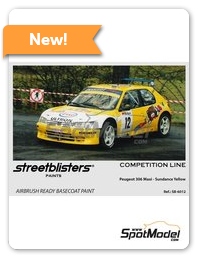 StreetBlisters
: Paint for airbrush - Peugeot 306 Maxi Sundance Yellow - 1 x 30ml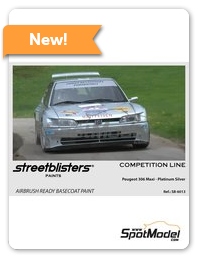 StreetBlisters
: Paint for airbrush - Peugeot 306 Maxi Platinum Silver - 1 x 30ml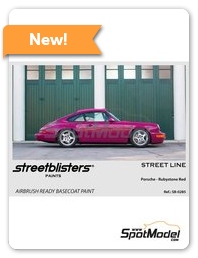 StreetBlisters
: Paint for airbrush - Porsche Rubystone Red - 1 x 30ml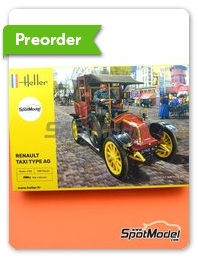 Heller
: Model car kit 1/24 scale - Renault Type AG Taxi Paris 1910 - plastic parts, rubber parts, water slide decals, assembly instructions and painting instructions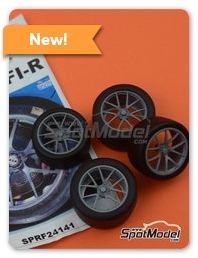 Scale Production
: Rims and tyres set 1/24 scale - BBS FI-R 18 inches with slicks - resin parts and rubber parts - 4 units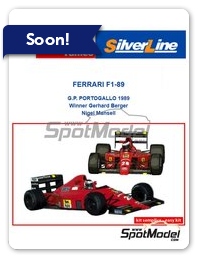 Tameo Kits
: Model car kit 1/43 scale - Ferrari F1/89 #27, 28 - Gerhard Berger (AT), Nigel Ernest James Mansell (GB) - Portuguese Formula 1 Grand Prix 1989 - metal parts, photo-etched parts, rubber parts, turned metal parts, water slide decals, white metal parts, assembly instructions and painting instructions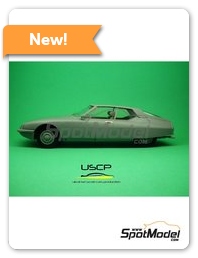 Ukrainian Scale Cars Production
: Model car kit 1/24 scale - Citroën SM - photo-etched parts, resin parts, rubber parts, vacuum formed parts, other materials and assembly instructions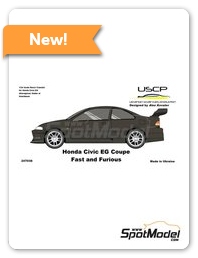 Ukrainian Scale Cars Production
: Transkit 1/24 scale - Honda Civic EG Coupe Fast And Furious - resin parts, rubber parts, other materials and assembly instructions - for the Hasegawa kits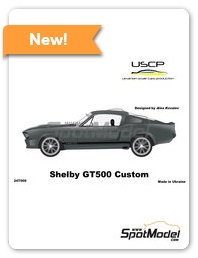 Ukrainian Scale Cars Production
: Transkit 1/24 scale - Ford Shelby Mustang GT500 Eleanor 1965 and 1966 - photo-etched parts, resin parts, seatbelt fabric, water slide decals manufactured with digital technology, other materials and assembly instructions - for Revell references REV07065, 80-7065, REV07242 and 80-7242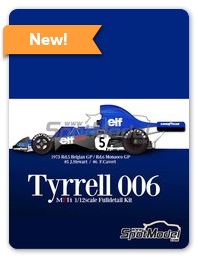 Model Factory Hiro
: Model car kit 1/12 scale - Tyrrell Ford 006 Tyrrell Racing Team Team sponsored by ELF #5, 6 - Sir John Young 'Jackie' Stewart (GB), Francois Cevert (FR) - Belgian Formula 1 Grand Prix, Monaco Formula 1 Grand Prix 1973 - metal parts, photo-etched parts, resin parts, rubber parts, seatbelt fabric, turned metal parts, vacuum formed parts, water slide decals, white metal parts, assembly instructions and painting instructions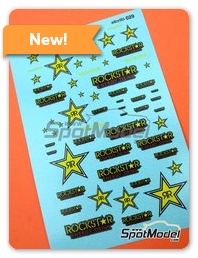 El Torito
: Logotypes 1/24 scale - RockStar Energy Drink - water slide decals manufactured with digital technology
Copyright
SpotModel